F L O R I D A 2002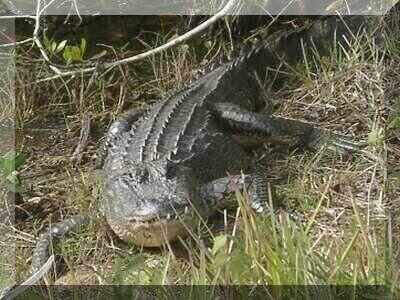 zum Vergrößern bitte ein Bild anklicken!
a click on the thumbnail for a fullsize picture!
bitte auf die Kamera klicken! Please click on the camera!
Der St. Johns River ist der längste Fluss Floridas. Die Quelle ist ca.

20 km von der Atlantikküste (bei Melbourne) entfernt -



der Fluss fließt nordwärts durch mehrere Seen bis zur Mündung in den Atlantik (Jacksonville)

Die folgenden Bilder habe ich zwischen Sanford und Palatka aufgenommen.
The St. Johns River is the longest river in Florida.

The river starts twelve miles from the Atlantic coast (near Melbourne) -



It flows north along the coastline to Jacksonville and passes several lakes.

I took the following pictures between Sanford and Palatka
Bei Astor und auf dem Lake George gibt es viele seltene Vogel zu sehen:


Ibis, Fischadler, Anhinga (Schlangenhalsvogel), Reiher, Waldstorch, Pelikan
There are a lot of seldom birds between Astor and Lake George:
Ibis, osprey, anhinga, white heron, woodstork, pelican
Am Lake George und in Silver Glen Springs im kristallklaren Wasser gibt es noch viel schönes zu sehen!
At Lake George and Silver Glen Springs where the water is very clear, you can see a lot of wonderful things.
Es gibt noch andere hübsche Plätze in Florida:
Clearwater Beach mit den weiten Stranden und einem tollen Sonnenuntergang

oder dem Down Town Blues Café, Lake Okee Choobee, Sanibel und Captiva Island.


Oder mal bei Freunden reinschauen
There are also some other interesting places to go in Florida:
Clearwater Beach with a wonderful sunset or the Downtown Blues Cafe, Lake Okeechoobee, Sanibel and Captiva Island. Linktipp: Sanibel und Captiva
Or you even knock on the door at the house of friends
Weihnachten mal ganz anders - tolle Gartendekorationen
Christmas not as usual:
wonderful illuminated gardens!
Besucht auch unsere Seite:
Please also visit our site: